Why Collaboration Tool for Your Business?
The rise of mobile technology and cloud computing has changed our way of working, making collaboration not only easier, but also crucial to the success of any organization. According to a reports, there are now more mobile devices than people around the world, and work is increasingly taking place outside of offices – in homes, hotels, airports, cafes and other temporary spaces. The trend towards more mobility and the need for more efficient collaboration across the Internet and across devices is therefore increasing every year.
Your company is probably working to adopt a digital workplace strategy to improve collaboration between you and your employees. But you may not be willing to invest time and effort in building a full-scale SharePoint farm on large hardware.
Office 365 is for your enterprise, it is a cloud based subscription service with a set of tools that you can use when SharePoint is out of the question. First let's know more about Office 365.
What is Office 365?
Office 365 is referred to subscription plans that include access to Office applications and other productivity services that are enabled over the Internet (cloud services). Office 365 includes plans for home and business use. Learn more about Office 365 for home plans as well as Corporate Office 365 plans which provide for services such as Skype for Business web conferencing and enterprise email hosted by Exchange Online, as well as additional online storage with OneDrive for Business.
How Office 365 Cloud Collaboration Tool Helps Businesses?
Office 365 is designed to meet the unique needs and work styles of different business units. It offers a wide range of purpose-built apps and services that provide users with flexibility and choice in connection, sharing and communication.
You get Outlook for emails from companies, Skype for Enterprise as a spine for business voice and online video media conferencing; OneDrive for storage space and right now a work management planner; Flow for workflow automation; PowerApps for the growth of web and mobile apps; Microsoft Teams, the brand new chat-based work environment in Office 365, Influence for web-printing tips and types, the new Evaluation Tool, and more. However, the tools offered can vary from one plan to another.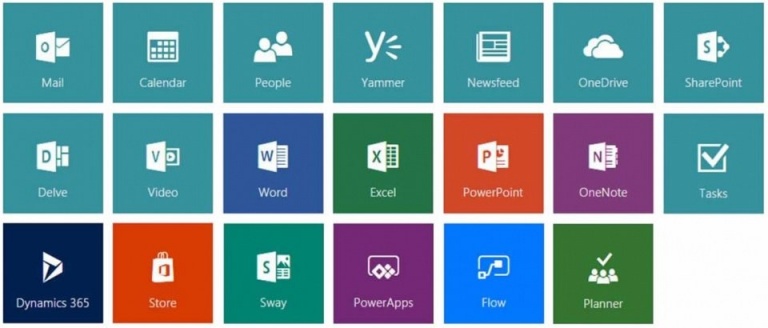 These apps bring new ways to work smarter and dramatically increase efficiency – a better end result for the business.
OneDrive
OneDrive is a cloud storage service that gives you access to your files on the go. When you work online or offline, you can sync files to any device so your team members can access the most up-to-date files, never an outdated version. It also provides backup against the threat of ransomware and other viruses; Even in the case of infection, users can still access files in the cloud.
Power BI
Power BI is powerful visualization a tool for Business. It acquires data from multiple sources, including online apps like Google Analytics, data stored in Excel spreadsheets and SQL Server databases. You need to follow few steps such as enter the required information, and it will be displayed. For example, just search for "Monthly Sales by Category" and it will appear as a pre-formatted chart.
Planner
With Planner, you can create a team, assign tasks, and update the workflow status. You can stay organised by putting jobs on the board and updating their progress by dragging and dropping between the completion columns. With this application, you always know exactly what is going on.
Flow
Microsoft Flow is a service to automate the workflow in the growing number of SaaS applications and services trusted by business users. Workflows are essential for effective collaboration. Notification and timely information about changes in content, people and applications bring the workforce closer to achieving common goals. Imagine that you have a defined workflow for a new request for a proposal to be published, and a set of predefined tasks is created for the presales, technology and customer success team to work effectively on a response without the need for redundancy.
Calendar
Your calendar web app in Outlook allows you to create and track appointments and meetings. You can create multiple calendars, link them to other people's schedules and even share your plan with others in your organisation.
Desktop and cloud access to your integrated calendar provides a full-featured web interface to access your calendar (Outlook web application), in addition to providing integrated calendar support with desktop email clients, such as Microsoft Outlook and Apple Mail.
It also allows you to access your email, calendar entries and contacts from your mobile device.
Yammer
Yammer offers a quick and simple way for your team to collaborate, share knowledge and attract all those who are part of your company. Take advantage of Office 365, Delve groups and the perfect integration of the Office suite to collaborate effectively with internal and external stakeholders.
Skype for Business
With Skype for Business, you can make video conferences with up to 250 people at a time. You can talk to customers around the world without the time and expense of travelling with them in person, and you can organise secure meetings on any device as efficiently as possible on your desktop computer.
These tools we've talked about are the collaboration tools included in Office 365. However, it is likely that your work will be much more effective in specific projects if you use a combination of them.
Microsoft Office 365 Plans
Choosing an Office 365 plans is an essential step before migrating to the cloud. With multiple options for small, medium and enterprise businesses, navigation can become overwhelming the differences. This Office 365 plan comparison provides you with the right choices for your organisation.
Cloud companions offers following plans for your enterprise, first is Business Essentials which includes Exchange email, instant messaging, SharePoint and online versions of Office 365. Secondly Business Premium which includes Office 365 platform, Exchange online, SharePoint online, OneDrive for business, Skype for business online, Office online, Office applications, Power BI, Yammer enterprise.
Find out how we can help modernize your workplace.