Formerly known as G Suite, Google Workspace for business is the perfect cloud based mailing and collaboration solution for companies wanting to work better and improve productivity.
Owned and operated by Google, this workspace service offers a wide variety of tools and functionalities to its users. From small enterprises to large corporates, it provides scalable services to suit organizations of all sizes.
CloudCompanions is a well-known and trusted Google Cloud partner and Google Workspace reseller in India. We understand the business needs and suggest best practices to leverage Google Workspace services for your company size and requirements.

Our consultations are based on a detailed study of the organizational set up so as to ensure selection of the right plan. This in turn will lower down the company's IT costs and increase employee productivity.
Most used Google Workspace service features
Some of the many reasons why Google Workspace is a great solution for your business
Easy to deploy
Convenient to use
Access from anywhere
No additional infrastructural requirements
Helps in remote collaboration
Enables real time sync
Low maintenance
Safe and secure
Flexibility to scale up or scale down
Sufficient storage capacity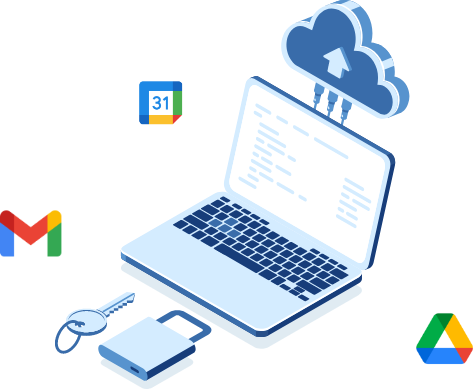 | | | | | | |
| --- | --- | --- | --- | --- | --- |
| Storage | 30 GB | 2 TB | 5 TB | Unlimited | Unlimited |
| Video Conferencing participants limit | 100 | 150 | 250 | 500 | 500 |
| Team Calendars | | | | | |
| Sheets, Docs & Slides | | | | | |
| Record meetings & save them to Drive | NA | | | | |
| Security & Management Controls | | | | | |
| Standard Support | | | | | |
| | |
| --- | --- |
| Video Conferencing participants limit | 100 |
| Team Calendars | |
| Sheets, Docs & Slides | |
| Record meetings & save them to Drive | NA |
| Security & Management Controls | |
| Standard Support | |
| | |
| --- | --- |
| Video Conferencing participants limit | 150 |
| Team Calendars | |
| Sheets, Docs & Slides | |
| Record meetings & save them to Drive | |
| Security & Management Controls | |
| Standard Support | |
| | |
| --- | --- |
| Video Conferencing participants limit | 250 |
| Team Calendars | |
| Sheets, Docs & Slides | |
| Record meetings & save them to Drive | |
| Security & Management Controls | |
| Standard Support | |
| | |
| --- | --- |
| Video Conferencing participants limit | 500 |
| Team Calendars | |
| Sheets, Docs & Slides | |
| Record meetings & save them to Drive | |
| Security & Management Controls | |
| Standard Support | |
| | |
| --- | --- |
| Video Conferencing participants limit | 500 |
| Team Calendars | |
| Sheets, Docs & Slides | |
| Record meetings & save them to Drive | |
| Security & Management Controls | |
| Standard Support | |